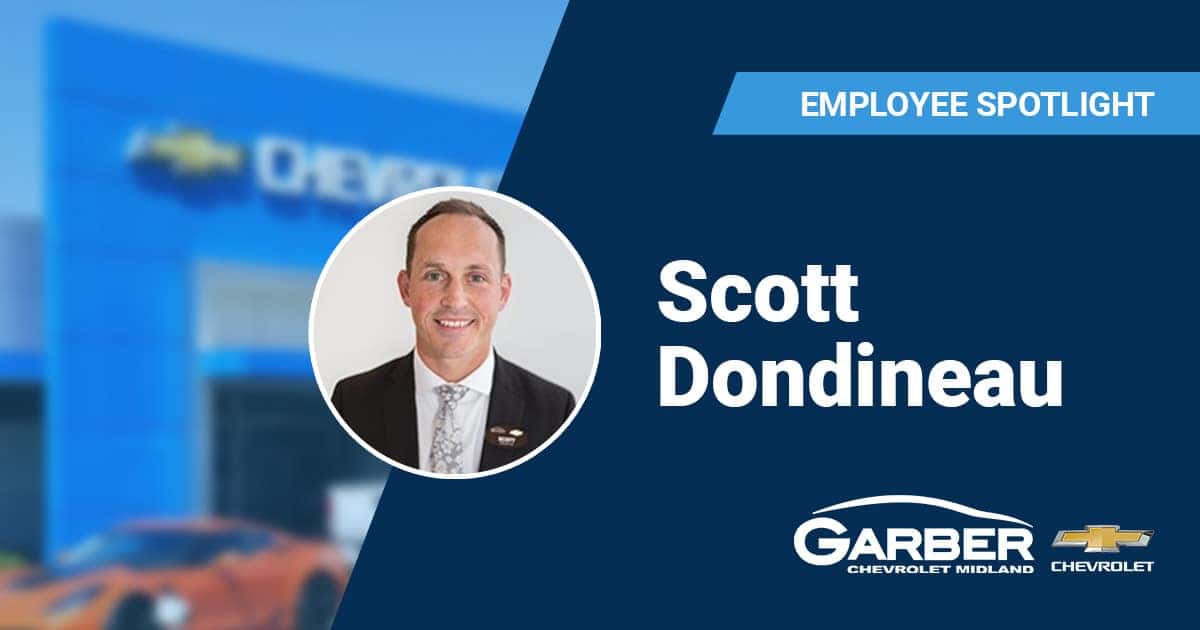 If you want to know what roles Scott Dondineau has had while working for a dealership, well…it'd be quicker if you ask him what roles he hasn't had.
Scott – who now works as the General Sales Manager at Garber Chevrolet in Midland, Michigan – is an automotive industry sponge. He's soaked up experience in pretty much every area of a dealership.
"I've seen it all," he said. "The automotive industry is all I've ever known. I started working for a dealership in California right out of high school."
Throughout his nearly 20-year career working for dealers in California and Michigan, he's had such roles as:
Parts Driver

Shipping & Receiving for Parts

Parts Counterman

Assistant Parts Manager

Body Shop Estimator

Assistant Service Manager

Parts Manager

Sales Consultant

New Sales Manager

General Sales Manager
Despite his wide range of automotive experience, he viewed whatever job he had at the time as just that: a job.
Getting hired at Garber changed that perspective.
"The first half of my career in the automotive industry, I saw my job as a job," Scott said. "Then I found a place who valued me for me. Garber helped me see this as a career instead of a job."
A Change of Heart
When Scott was 18-years-old, all he wanted to do was get out of Midland.
"I moved to California to go to Bible College," he said. "I was the typical, 'I need to get out of my hometown' story. While going to school to get my Associate's Degree in Theology, I worked as a detailer at a dealership."
In 2011, he moved back home to Midland. That's when Craig Lang – General Manager for the Garber Chevrolet Midland dealership – began recruiting Scott, who had known Craig for over 30 years.
At first, Scott was reluctant.
"I didn't want to sell cars; I really didn't," Scott said. "I didn't want to work in the sales part of things. It took Craig five years to recruit me. I wish I would have made the jump to Garber sooner, but at the time, I just didn't realize how much Garber would positively impact my life."
A change of words changed Scott's mind about selling cars.
"Craig kept saying to me, 'Come sell cars for me'," he said. "One day, my wife and I went on a double date with Craig and his wife. That's when Craig changed his tune. He changed the words from 'Come sell cars with me' to 'Come grow with me.' At the time where I was at, I was content, but I wasn't growing. And Craig offered me growth. So I said yes."
In October 2015, Scott officially joined the Garber team. He hasn't looked back.
"I love what I do," he said. "When I go on vacation, I get excited to come back to work. Don't get me wrong; I love spending time with my family and going on vacation. But coming back to work is not a depressing thought. I am happy to come back. That's the truth."
He said that he feels valued and trusted at Garber. Those key components have helped build a solid foundation for a fulfilling career.  
"I've had opportunities to make more money or leave and work somewhere else, but I don't want it," he said. "I love it here. I love being on this bus. I want to always be a part of it. I know I am valued by the way we are treated here at Garber. The communication, the transparency, the trust. Such trust. It's a big deal."
Lessons in leadership and the relationships he's built in his role have not only helped Scott grow professionally, but personally.
"I'm a better person because I work for Garber," Scott said. "I'm a better dad, husband, leader, and team member."
Growing with Garber
At Garber, Scott said he values witnessing the immense growth of others even more than the paycheck.
"Watching all of these people get opportunities…to see people grow…that is the highlight of my career at Garber," he said. "Money is short term. It sounds cliché, but to see people grow: to work with them, to see their lives change, to get to know them, to see their family pictures, and to be a part of that life change…it's a big deal. Paychecks are spent. Growth is forever."
Scott leads a training for new employees at the Midland dealership that he coined C.A.R.E (Character, Attitude, Respect, Enthusiasm): a class inspired by Dick Garber's priority of hiring ACEs, or those with Attitude, Character, and Enthusiasm.
"We care about your growth here at Garber," Scott said. "We recruit new employees with intentions of growing them as team members AND as people. They're going to be better people by working here."
New employees can feel confident in knowing they will get stability when they join the Garber team, Scott explained.
"We create stability here," he said. "When you get hired, there is onboarding training that is the same for everyone. There is nothing worse than joining a new organization and feeling like they don't care about you. We understand at Garber that this is a two-way street where the team member also needs to be happy and feel like they fit, too. When you work for Garber, you get stability. Training. A family. Pride to come to work."
And if you're curious if Scott uses that Theology degree he got in California, he definitely does. Along with his role at Garber, he serves as a youth pastor at his church.
Overall, what makes Garber a great place to work?
"You really can't put into words what makes Garber special," he said. "But to say a short statement with big meaning: We do the right thing."
FAST FIVE

What was your first job? Manchu Wok at the Midland Mall. I was 15, and my mom dropped me off at 5 p.m. and said, "I'm picking you up at 9, and you better have job applications." I walked around the mall, didn't pick up any applications, then went to the food court to visit my friend who I knew worked at Manchu Wok. His boss came out and said, "You need a job? You start now." So I started on the spot, washing dishes from 7 to 9. I didn't even fill out an application. The reason I needed a job was because I needed to pay for my pager. I got $4.15 an hour, and I worked there for over a year. I still love Chinese food.

First car: 1987 four-door Chevy Cavalier. My grandma gave it to me.

What are three things you can't live without (aside from food, water, air…)?  My wife, my faith walk, my kids. They're the reason I do everything I do.

What is something people would be surprised to know about you?  I lived in Tijuana, Mexico for 10 years.

Best advice? "Do the right thing." Craig Lang taught me that from Day 1 here at Garber. I live by it. I say it every day. It's how I answer things and how I make decisions.