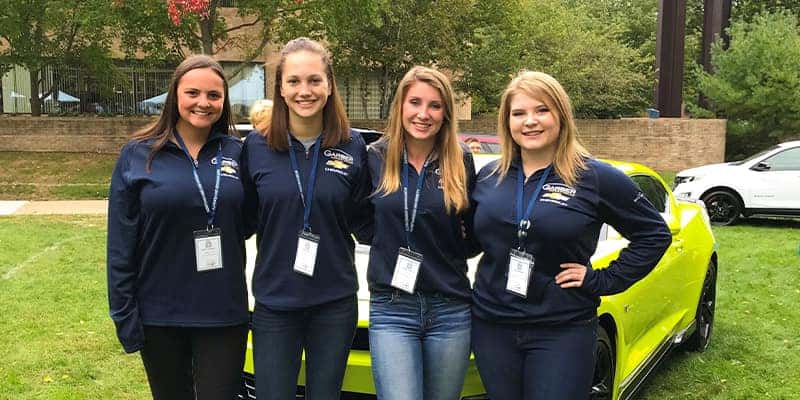 On Sept. 27-29, Garber Chevrolet Midland had vehicles on display at the 56th annual Northwood University International Auto Show. Northwood University has held this student-led event at the beginning of each academic year since 1965, and it is North America's largest outdoor auto show with over 65 brands and more than 500 vehicles. This year, Garber Chevy Midland was proud to represent Chevrolet at the auto show.
Located within the domestic-brands exhibit, Garber Chevrolet Midland loaned a number of Chevrolet vehicles to the event, including sports cars, SUVs, and full-size trucks. One vehicle that attracted a lot of attention was a Sebring Orange Tintcoat-painted 2019 Chevrolet Corvette Grand Sport Coupe. This head-turner's sculpted body and 19-inch wheels got plenty of camera time during the three-day event.
Another crowd favorite was the all-new Cajun Red Tintcoat-painted 2019 Chevrolet Blazer. This midsize crossover's sporty design and Camaro-inspired dashboard helped it stand out from the other SUVs on display. With its black badging, 18-inch black wheels, and deep-tinted rear windows, the new Chevy Blazer also held its own against the lime-green Camaro nearby.
The new 2019 Chevrolet Suburban Premier represented the full-size SUV segment and attracted the attention of families and Chevy enthusiasts. Spectators could sit inside and take in the Suburban's three rows of perforated leather seats, advanced technology, and expansive cargo space. This Suburban also included a power liftgate that impressed with its ease of use.
For the truck lovers, there was a 2020 Chevrolet Silverado 2500HD High Country in Northsky Blue Metallic. This full-size truck was massive and included assist steps to help visitors hop in and get a feel for the cabin. This Silverado was especially eye-catching because it featured the new power tailgate that opened and closed with the push of a button.
At the front of the Chevrolet display was the 2020 Chevrolet Camaro 2SS coupe in Shock Green. Like the Corvette nearby, the new Camaro was a favorite among spectators with its muscular body and 20-inch black wheels. The interior was also impressive with its signature round vents and deeply bolstered seats to plant you in place when cornering.
These were just a handful of vehicles that Garber Chevrolet Midland had on display at the Northwood University Auto Show. It was an honor to be a part of this long-standing community tradition and we hope to be involved with the show for many years to come.